discographie

On this page you can get information about the recordings of our artists and purchase CDs. If you have any questions about the recordings, we would be delighted to answer those. Thank you.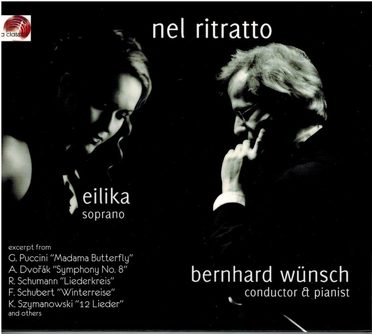 "12 Lieder" op. 17 - Karol Szymanowski
"Dichterliebe" op. 48 - Robert Schumann
The world's first complete recording of the cycle "12 Songs", Opus 17 by Karol Szymanowski is here combined with on eof the audiences' favorite Song Cycles (Kunstlied) the wellknown "Dichterliebe" Op 48 by Robert Schumann.
Here present a live recording from September 2012.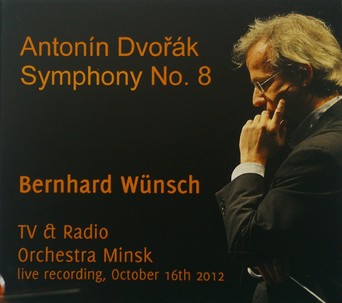 nel ritratto
a portrait of the artists Eilika (soprano) and Bernhard Wünsch (conductor and pianist), here the two artists introduce the broad range of their repertoire including the "Lied" (art song), opera and concert arias to symphonic works.

Works by Schubert, Schumann, Mozart, Dvorak, Puccini and others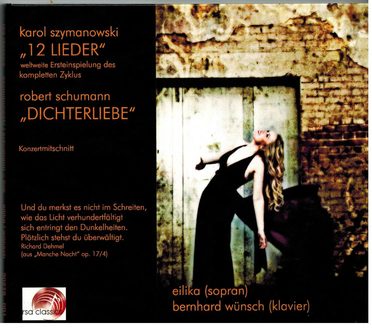 Antonín Dvořák - Symphony Nr. 8, op. 88
Bernhard Wünsch
conducts the Radio Symphony Orchestra Minsk
The Symphony No. 8 in G major, Op. 88, B. 163, was composed and orchestrated by Antonín Dvořák within the two-and-a-half-month period from August 26 to November 8, 1889 in Vysoká u Příbrami, Bohemia.