coming up in 2014: Conducting Seminar with Bernhard Wünsch
and the Belarus Radio Symphony Orchestra, Minsk
inculding one recording session of 45 min. per participant (max. 5 participants)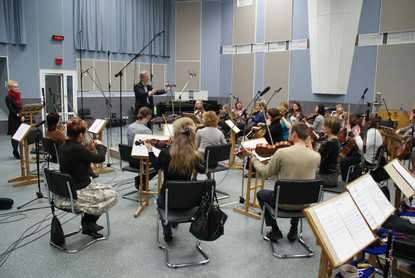 The course is designed for student-conductors and conductors who want to improve their conducting techniques, as well as for composers who want to learn conducting a full-size orchestra. Each participant will select from the course repertoire the works which he would like to conduct during the seminar, depending on his own level of conducting technique. By sharing his experiences of working with various international orchestras Bernhard Wünsch offers a broad range of conducting and musical interpration techniques. During this Conducting Semiar the participants get the chance to work with a full-size symphony orchestra, the Belarus Radio Symphoniy Orchestra, and record one session of 45min per participant.
Professional equipment (Pro Tools) is available at the Studio of the Belarus TeleRadio Company.
Composers can also bring and conduct their own works. In addition the composers are invited to use the studio recording session for the recording of their own works. In the 45 minutes of recording session, it is recommended to limit the composition`s length to 3-4 minutes.
If you plan to conduct your own composition, please contact us concerning the instrumentation and the score.
Seminar Schedule:
2 days - conducting lessons (with piano), minimum 60 min. per participant
2 days - conductiing lessons (with full-size symphony orchestra), 2x 45 min. per participant
after the conducting lessons, Bernhard Wünsch offers postliminary work with each participant
2 days - recording sessions, 45 min per participant
Seminar Fee:
1400 EURO
(If you pay the Seminar Fee in one payment (1400 EURO), you don`t have to pay the Application Fee. If you choose the partial payment offer, please pay 700 EURO and the Application Fee of 100 EURO until two weeks before the first day of the seminar. The remaining 700 EURO have to be paid until the first of the workshop. Thank you very much for your cooperation.)
The Seminar Fee can be paid via PayPal or via Bank account. If You want to pay via Bank account, please send us Your application via the contact sheet, we will send You the IBAN and BIC for the money transfer.
Application Fee:
100 EURO (no refund)
Please send back the application form via e-mail (kontakt [at] realsoundartists.de) or via Fax +49 5527-9149816. Thank you very much.
Seminar Repertoire:
Edvarg Grieg: "Morning Mood" and "In the hall of the mountain king" from "Peer Gynt Suite Nr. 1"
Johann Strauss: Ouverture "The Bat" ("Die Fledermaus)
Antonin Drorak: 9th Symphony (2nd + 4th movement)
Giacomo Puccini: "Un bel di vedremo" Soprano Aria from "Madame Butterfly"
Carl Maria von Weber: Ouverture "Der Freischütz"
Gioachino Rossini: Ouverture "Guillaume Tell"
Pyotr Tchaikovsky: "The Nutcracker" (suite), Op.71a
Pyotr Tchaikovsky: "Swan Lake" (suite), Op.20a
The participants are asked to prepare at least 4 works of this list.
Seminar language:
German, English, Russian
Visa / Airport Shuttle:
A temporary visa for Belarus is requested!
... feel free to ask! We are happy help in any question concerning the participants` visas and Shuttle to the Airport!
Accomodation:
Small apartements for 2-4 people are avaible for about 30-40 EURO per person and night. Please get in touch for more detail. We are happy to help!