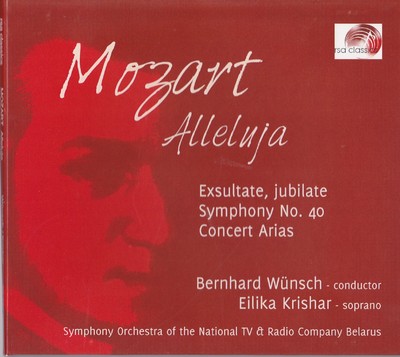 Wolfgang Amadeus Mozart - Alleluja
Bernhard Wünsch - Leitung
Eilika Krishar - Soprano
Symphony Orchestra of the National TeleRadio Company Belarus
Exsultate, jubilate KV 165
Konzertarien KV 178, 368, 416
Symphonie No. 40, KV 550
At the beginning of this CD you will hear the famous Motette "Exsultate , jubilate", which is very popular and always loved by the audiences for its final part the "Alleluja". The two concert arias KV 368 and KV 416 are most virtuous and belong to the most highly-composed arias of the entire repertoire, ranging up to the high f ``` , which is also found in the famous aria of the Queen of the Night. Currently there is hardly a soprano singer who is able to sing these arias with such ease and yet so virtuosity, still with a deeply touching voice and tender timbre like Eilika Krishar does.
Last part of this mavelous CD is the Symphony No. 40 - simply another highlight of Mozartian music!
The first movement begins darkly, not with its first theme but with accompaniment, played by the lower strings with divided violas. The second movement is a lyrical work in 6/8 time, in E flat major, the submediant major of the overall G minor key of the symphony. The minuet begins with an angry, cross-accented hemiola rhythm and a pair of three-bar phrases; various commentators have asserted that while the music is labeled "minuet," it would hardly be suitable for dancing. The contrasting gentle trio section, in G major, alternates the playing of the string section with that of the winds.
The fourth movement opens with a series of rapidly ascending notes outlining the tonic triad illustrating what is commonly referred to as the Mannheim rocket. The movement is written largely in eight-bar phrases, following the general tendency toward rhythmic squareness in the finales of classical-era symphonies. A remarkable modulating passage in which every tone in the chromatic scale but one is played, strongly destabilizing the key, occurs at the beginning of the development section.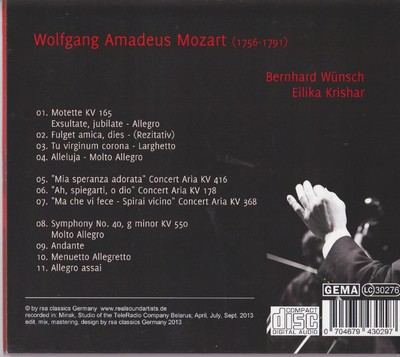 01 Motette KV 165
Exsultate, jubilate - Allegro
02 Fulget amica, dies - Rezitativ
03 Tu virginum corona - Larghetto
04 Alleuja - Molto Allegro
05 "Mia speranza adorata" - Concert Aria KV 416
06 "Ah" spiegarti oh Dio" Concert Aria KV 178
07 "Ma che vi fece - Sperai vicino" Concert Aria KV 368
08 Symphony No. 40, g minor KV 550
Molto Allegro
09 Andante
10 Menuetto Allegretto
11 Allegro assai